Illustrators in Singapore and their Impact on Visual Marketing
Our list of the top 7 illustrators in Singapore
Design has become an increasingly sought after field. Although there is still a small handful of designers in Singapore that have made their mark, we can be hopeful with the increasing number of locals gaining outstanding portfolios.
As a creative agency, we understand how important it is to have a great design — particularly when it comes to digital marketing. Answer this: how likely are you to remember an aesthetically visual ad compared to one that is just filled with text? This is where artists come in — they are the ones working round the clock to create illustrations that make lasting impressions in our minds. Here's our list of illustrators in Singapore whose work has caught our eye.
1. Mrn.a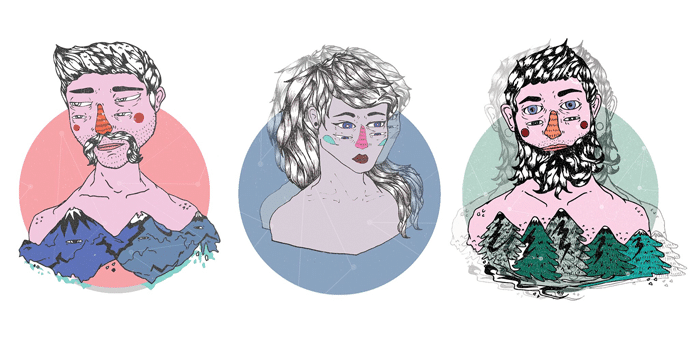 Inspired by astrophysics with a retro element, Marina A's illustrations are distinct, to say the least. Her designs can be seen all around Singapore — in fact, she has worked with labels like Apple, Zouk, Esplanade and more. She has also helped design posters for local bands such as Disco Hue and Ffion. Indeed, her unique murals can be seen in art exhibitions all around the island.
2. Anngee Neo
Anngee Neo has made a name for herself with the impressive amount of work that she's done. Besides having her work commissioned on tote bags, plates and murals, she has also illustrated many children's books, including one written by the late President S. R. Nathan, titled The Crane and The Crab. She has also won awards for several other books that she has illustrated.
3. Kristonautopilot
Kristal Melson has a slew of well-known brands behind her name and work. Having collaborated with big brands like Uniqlo, Facebook, and even the Apple Store, this artist deserves to be given a second glance. Her works are experimental with still a tinge of local flavour added to it to truly make it distinct.
4. Esther Goh
Known for her dreamy style with soft yet vibrant colours, Esther Goh's artwork definitely turns heads. In fact, she has caught the eye of brands such as Maki-san, Tiger Street Lab, and even the Singapore Writers' Festival, of which she has done collaterals for. So if you find her work familiar, don't be surprised!
5. Mindflyer
Having been commissioned by luxury brand Coach, local artist Michael Ng is the only illustrator in Singapore that can say that he has produced a limited edition series for Coach. With bags, footwear, and tee shirts in the collection, his artwork is proudly hand-painted onto each of these limited edition pieces, where he came up with a feminine design of the Statue of Liberty. He has recently also worked with popular Japanese brand Uniqlo for an exclusive Singapore collaboration!
6. Speak Cryptic
Farizwan Fajari, who also goes by Speak Cryptic, is arguably one of the most prominent illustrators in Singapore. His works have been displayed in Singapore Art Museum, Gilman Barracks, The Substation, The Projector, and many other such creative places. Charming and alluring, these works are a subtle commentary on current affairs in Singapore as well as Fajari's attempt at taking on the human condition. Indeed, he lives up to his cryptic moniker.
7. Oak & Bindi
Lydia Yang, known artistically as Oak & Bindi, has gone beyond working with local brands. Instead, her works can be found in festivals all around the world — from Jakarta to New York, and of course, not to mention, in our sunny island Singapore as well. Lydia's murals can be glimpsed in The Substation, Dover Street Market Singapore, and more.
If you've found any of these artworks familiar, it might go to show just how effective a memorable design can be. Visual aspects can hold a significant weight when it comes to making an impact on your audience — and that is what we at MIU strive to achieve. With our spectacular and immaculate designs, we hope to be able to convey powerful messages for brands and express their purpose. Our designs can be found under our work portfolio, where we curate unique designs for each of our clients and aim for excellence for all your digital marketing needs.
recommended