Engaging Business Through TikTok
Early 2020 can be referred to as a period of glory for TikTok as one of the largest social media platforms. The latest data mentioned that TikTok now has been downloaded more than 1.5 billion times on Google Playstore and iTunes. Initially, TikTok experienced a decreased number of users and was even banned in some countries such as Indonesia, due to the porn and vulgar content that could be found on it. But with the effort of the developer to constantly update the apps and ban "naughty" users, TikTok is now seen as a positive platform.
The TikTok app itself is a video sharing platform that enables users to create short videos and add some special effects to them. This "special effects" feature became the main point that attracted people to join the platform and try it out. With such a feature, it allowed users to express their creativity by recording multiple short clips. As such, TikTok's popularity continues to increase, especially in Asia where celebrities also made TikTok accounts and created their own funny clips. Regular users of course will in turn be interested when seeing their idols use the apps and be encouraged to make some content as well. 
Digital Marketing on TikTok
With its popularity rapidly increasing, TikTok became a potential platform for digital marketing, just like other social media platforms. Creating attractive content while promoting brand products indeed creates a good potential for brands to do digital marketing. Some brands have in fact already begun collaborating with influencers on TikTok to promote their products. These are the users who already have hundreds of thousands of followers on their account. Influencers are likely to be closer to the audience than the brand that just started their TikTok account, even if they are a famous brand, due to the individuality that influencers possess. 
Not only that, along with the new update, TikTok has also released a platform called TikTok For Business. This platform was released with the intention of helping businesses with their marketing needs and to provide them with marketing solutions. This allows brands to put their advertisements on TikTok. Large businesses such as Nike, Disney, and Guess have already made use of this feature and started to place their advertisements through the platform.
Also known as TikTok Ads, this feature allows you to set "Awareness", Consideration", and "Conversion" as options for the objective of your ads. Additionally, you can also choose how to set the placement for your ads—if you already know where your audience is, you can opt to set it manually. If you are still confused on where your audience is, you can instead opt to set the placement automatically.
TikTok Ads also allows you to set your target audience. Options under this category include the gender, location, age, language, and even the device operating system of the audience you are targeting. This will help you reach the perfect audience for your advertisement.
TikTok's marketing campaign
Just like any other social media which provides advertising options on their platform, you can set your budget and the schedule for your TikTok Ads as well. This can be daily, weekly, or even monthly. Some businesses might see this as a helpful tool as they can calculate their individual marketing budget for each platform. 
Other ads tools that you could tap on in TikTok Ads is the Video Creation Kit. This feature allows you to create, customize, and modify your ads using templates already available in the app. It also provides 300+ background music to make your ads more attractive. 
Currently, TikTok allows 5 following types of ads: Brand Takeovers, In-Feed Videos, Hashtag Challenges, Branded AR Content, and Custom Influencer Package.
For brand takeovers, ads will appear when the TikTok user opens the app. These ads can either be an image or a video up to 5 seconds long. The ads will be redirected to an internal or external link, where the users will see your brand or business.
In-feed videos are native ads that are placed on the bottom or in the feed and become part of the queue of the video you're looking for. Videos up to a minute long are allowed and run with the sound on. In-feed videos also will redirect audiences to your website or app, depending on the link you put on the ad itself.
Types of ads you might see on TikTok
Hashtag challenges are also garnering popularity among social media users. Usually, the brand or business will contact the marketing team of TikTok to create the sponsored hashtag, and they will encourage TikTok users to share the content on your brand's behalf. This kind of ad will often last for 6 days or a week. Under hashtag challenges, the Hashtag Plus upgrade will add a shopping feature to the ads as well.
For branded AR content you can find it easily as stickers, 3D, or AR content in the apps. All TikTok users can use it in their videos to make them more engaged with the brand as they use these special effects in their content creation process. It is possible to combine this with the hashtag challenge, and might even make the brand more memorable in the minds of the users.
Lastly for the custom influencer package, as previously mentioned, brands can work together with any TikTok influencer, and those ads will become sponsored content. Several big businesses have also begun using this kind of ad as the marketing strategy for their brand.
Guess is one such brand that has hopped on this bandwagon and seen tremendous success in its TikTok marketing campaign. Opting for a Hashtag Challenge, Guess created the #InMyDenim hashtag for content creators on the app to join in and show their denim looks.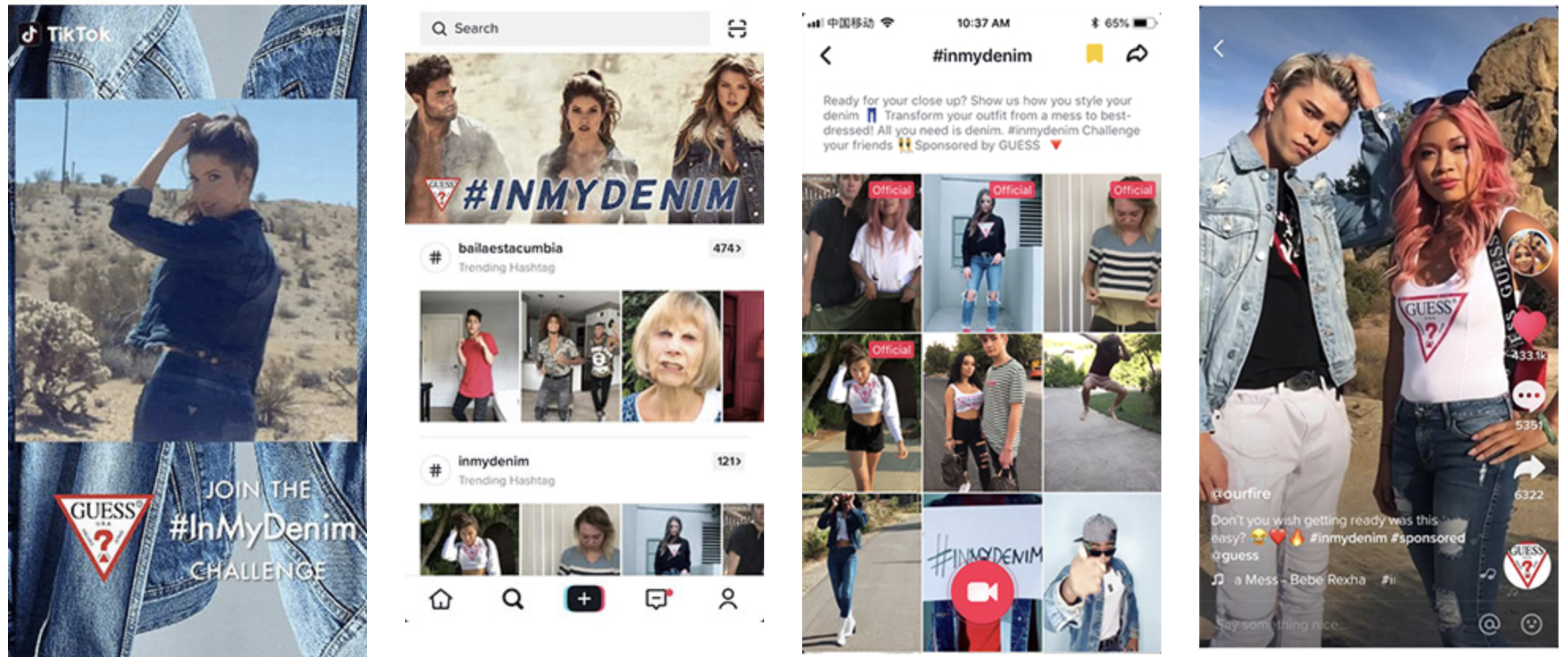 How the #inmydenim challenge took over the world
To increase awareness for the hashtag, Guess went for the Brand Takeover on the first day of the hashtag launch. Additionally, they collaborated with several influencers to propel the hashtag to their followers, encouraging them to use the hashtags as well.
Just within the 6 days that the Hashtag Challenge was ongoing, more than 5,000 videos were posted under the hashtag #InMyDenim, with more than 10 million views garnered. The campaign was an overwhelming success with Guess gaining over 12,000 new followers in that week, showing how much the advertisement resonated with the audience.
With continual development on the apps, TikTok has become a platform for your business to grow. Now it all depends on you, the business owner, to create your ad on this platform. Jump in with the correct digital strategy with us here at MIU! We have experience in helping many businesses using digital strategy to maintain the business in the digital world. Our qualified and on the ball digital experts provide and execute impactful solutions that allow your brand to leave a mark in the digital space. Experience seamless transitions and growth of your amazing brand online, and scale to newer heights like never before. When are you ready to grow digitally? Because the time is now.